Tastermonial
Gluten-Free Tasterbox
Regular price
$39.99
Sale price
$49.99
Unit price
per
Added to cart. Thank you!
What's Inside the Box
We believe you shouldn't have to compromise on taste to accommodate your lifestyle! Our Gluten-Free Tasterbox is filled with shelf-stable high-quality products sourced from emerging food brands, all of which are free of gluten or gluten-containing products. Our goal is to introduce you to good-for-you products that fit your dietary needs, delivered to your doorstep. 
Our Gluten-Free Tasterbox Includes:
Atheen Oats What the Nut Granola is loaded with almonds, macadamia nuts, pecans and walnuts (gf, v)
Atheen Oats Oats So Good Granola with dried blueberries, cranberries, and raisins blend in perfect harmony with the oats, pecans, and macadamia nuts (gf, v)
Kween Chocolate Granola Butter is safe for people with peanut and tree nut allergies making it the rich chocolate spread of your dreams! (gf, v) 
12 Tides Everything Puffed Seaweed Chips combine the tastiness of an everything bagel with the classic umami flavor of kelp (gf, v) 
Kickbar Coffee Bars are jam-packed with the same amount of caffeine as an espresso giving you pick-me-up without the guilt of indulging in a sweet treat (gf, v)
Renewal Mill Dark Chocolate Brownie Mix is sustainably made with upcycled ingredients, so whip up a batch of chocolatey goodness. (gf, v)
Renewal Mill Gluten-Free Baking Flour
is a cup-for-cup gluten-free baking flour replacement that features okara and is packed with nutrition (gf, v)
* All products in our current Gluten-Free Tasterbox are vegan.

INGREDIENTS:

---
Share this Product
Lovely Tasting Box that matches my Gluten Free and Plant Based Lifestyle
I highly enjoy this tasting box. Never heard of any of these brands before. I am Gluten Free and pursue a plant-based inclined lifestyle. It's so hard to find gluten-free snacks and flour in my local store. My favorites are KickBar and Renewal Mill!
Customer Reviews
08/05/2020
EJ
United States
I recommend this product
Amazing Snack Variety!
I was so excited to receive my box and the products it has a LOT in it for the price! I'm gluten-free, so the baking mixes were great to receive. The granola butter is seriously delicious. I add it to a variety of snacks and it really levels them up. Everything tasted good, I loved the granola and I've replaced my morning coffee with the coffee-flavored Kickbar. It's was also a nice touch that the Bouchees snack mix is low carb/low sugar so I can eat that to my heart's content. The best part of this box was getting to try all these brands I'm not familiar with so I know what I want to come back and purchase. Can't wait to see what's in the next GF box!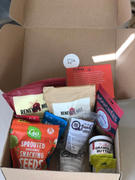 07/29/2020
Meg
United States
I recommend this product
Every product was a 10/10
The variety of this box is amazing, and everything inside was so delicious! The chocolate is rich and expensive-tasting. I had the kickbar before a hard workout and it powered me through with the caffeine. The granola is probably the best I've ever had and I love the different flavors. The seaweed snacks are so interesting and delicious! And the granola butter.... game changer. I have yet to try the flours but I already know they'll work perfect for baking! Will definitely be repurchasing these products!
07/19/2020
Kirti
United States
I recommend this product
Think Global Support Local
I loved all of the products in the tasterbox. The flavours were interesting and different. The fact that all the products were locally made , made it even better .
07/10/2020
Daisy Y.
United States
Quarantine must have!
I loved all of the products that were in the gluten-free tasterbox, especially the baking mixes! It's so difficult to find gluten-free flour nowadays and I really appreciate Tastermonial for including baking products in the box. Not to mention, all of the products were from small brands that I, nor my family, have ever heard of - we will definitely be repurchasing those products. I would give 10 stars if I could, can't wait to try out another tasterbox!