Customer Reviews
Write a Review
Ask a Question
10/17/2020
Anonymous

United States
I recommend this product
Saved me a grocery trip
Our whole family is on a gluten-free diet. We are trying to find new snacks to satisfy us during the quarantine. The granola is so tasty! delicious and nutritious.
10/17/2020
Anonymous

United States
I recommend this product
A bang for your buck!
Loved every single one of these treats. Such a great variety! Will be purchasing a lot of the seaweed chips.
10/15/2020
Hugo a.

United States
I recommend this product
Found my new favorite gluten free snacks!
The whole family is obsessed with the renewal mill brownie mix! It tastes just like a normal brownie without any differences in the texture. I find most gluten-free brownies difficult to eat. The seaweed chips were delicious! Looking forward to trying more products from tastermonial.
08/13/2020
Elaine J.

United States
I recommend this product
Such a great variety of products for the price!
I was so excited to receive it and discover different products that I haven't tried before. The Renewal Mill GF brownie mix is so good and I really enjoyed the 12Tides seaweeds snacks too. I will definitely be ordering a box of the Kickbar coffee bar because its the perfect coffee replacement without the extra calories. Would also make a great gift for a friend who is gluten free!!!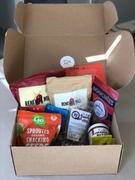 08/05/2020
EJ

United States
I recommend this product
Amazing Snack Variety!
I was so excited to receive my box and the products it has a LOT in it for the price! I'm gluten-free, so the baking mixes were great to receive. The granola butter is seriously delicious. I add it to a variety of snacks and it really levels them up. Everything tasted good, I loved the granola and I've replaced my morning coffee with the coffee-flavored Kickbar. It's was also a nice touch that the Bouchees snack mix is low carb/low sugar so I can eat that to my heart's content. The best part of this box was getting to try all these brands I'm not familiar with so I know what I want to come back and purchase. Can't wait to see what's in the next GF box!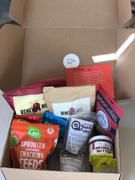 07/29/2020
Meg

United States
I recommend this product
Every product was a 10/10
The variety of this box is amazing, and everything inside was so delicious! The chocolate is rich and expensive-tasting. I had the kickbar before a hard workout and it powered me through with the caffeine. The granola is probably the best I've ever had and I love the different flavors. The seaweed snacks are so interesting and delicious! And the granola butter.... game changer. I have yet to try the flours but I already know they'll work perfect for baking! Will definitely be repurchasing these products!
07/19/2020
Kirti

United States
I recommend this product
Think Global Support Local
I loved all of the products in the tasterbox. The flavours were interesting and different. The fact that all the products were locally made , made it even better .
07/10/2020
Daisy Y.

United States
Quarantine must have!
I loved all of the products that were in the gluten-free tasterbox, especially the baking mixes! It's so difficult to find gluten-free flour nowadays and I really appreciate Tastermonial for including baking products in the box. Not to mention, all of the products were from small brands that I, nor my family, have ever heard of - we will definitely be repurchasing those products. I would give 10 stars if I could, can't wait to try out another tasterbox!